How to Sell Your Investment Property with Tenants in Killeen
Owning an investment property in Killeen can be a great source of passive income, but what happens when you need to sell the property and you have tenants in place? Selling a house with tenants can be a complex process that requires careful consideration to avoid violating tenant rights or risking losing them altogether. In this article, we'll explore some of the challenges associated with selling a rental property with tenants in Killeen, and offer some tips on how to navigate the process successfully.
We Buy Houses: Selling Your House with Tenants
At times, owning a rental property can become a burden, and you might find yourself wishing to sell it. Whether you have tenants or not, selling a property can be stressful. However, if you have tenants, the situation can be even more complicated. Most potential buyers, especially regular buyers, will not consider a property with tenants, and even investors may struggle with the idea of taking on tenants. This is where we come in. At the local We Buy Houses company, we understand the challenges of selling a rental property with tenants, and we are always ready to take the property off your hands, even with tenants in place.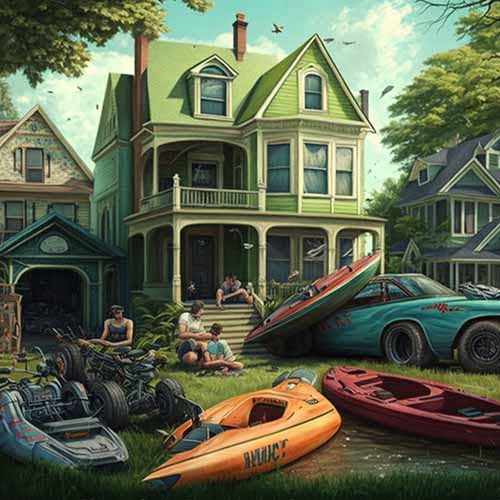 Understanding the Lease
The first thing to consider when selling a rental property with tenants is the lease agreement. If you have a month-to-month lease, ending it should be relatively straightforward. You'll need to provide the tenant with sufficient notice, usually 30 days unless specified otherwise in the lease. If you are in the middle of a fixed-term lease, you'll need to determine how to proceed. You can either sell the property to an investor who will honor the lease, or provide the tenant with some kind of incentive to move out, usually cash. However, keep in mind that the tenant is not obligated to move out before the lease expires. Also, if you violate the tenant's rights, you could face legal action. Hence, it is important to ensure that you are within your legal rights as a landlord.
Dealing with Difficult Tenants
If you have a difficult tenant who has violated the lease, the eviction process can be long and arduous. Evictions are not only time-consuming, but they can also be expensive, and most landlords try to avoid them at all costs. In such cases, selling your property directly to an investor can be an attractive option. By doing so, you can avoid the eviction process and still walk away with cash in hand. Direct buyers will usually take over the lease and manage the property as usual, or they can evict the tenant if necessary.  Sadly, we have some experience dealing with the process and are also local so we can go to court in person.
Selling with an Agent
If you have a long-term lease or the property needs repairs, selling through a traditional sale with an agent can be challenging. Most "retail" buyers will want to occupy the property immediately after the sale is complete, and this is not always possible with tenants in place. If you do decide to go this route, you'll need to work with an agent who has experience working with investment properties and tenants as most buyers will likely be investors looking to profit from rental income… just like you were.
Selling Directly
A direct sale to an investor is often the best option when selling a property with tenants in Killeen. Investors are experienced in dealing with tenants and are usually happy to take over the property with tenants in place, especially if they are in good standing. They won't need to advertise, market, or show the property, saving you time and money. They will also avoid the hassle of screening tenants and running background checks since these things have already been done. Even if you have a difficult tenant, an experienced investor will know how to handle the eviction process if necessary.
We Buy Houses in Killeen
At Liberty we specialize in buying properties with tenants in Killeen. We understand the complexities involved in selling a rental and can walk you through the process. Don't keep losing money and get rid of those problems today.  And if you just aren't sure if you want to "sell my house fast" follow this link to get a little more insight.
In conclusion, when it comes to selling a property occupied by tenants, it's essential to navigate the process with care and professionalism. Liberty Home Buyers understands the unique challenges that can arise in such situations and is dedicated to providing homeowners with a fast and hassle-free solution. Our company's commitment to excellence sets us apart, ensuring a smooth transaction that benefits both the homeowner and the tenants involved.
At Liberty Home Buyers, we recognize the importance of maintaining positive relationships with tenants throughout the selling process. We prioritize open communication, transparency, and respect to minimize any disruption for everyone involved. Our team of experienced professionals works diligently to handle all the details, allowing homeowners to bypass the traditional complexities of selling a property occupied by tenants.
With our streamlined approach and expertise in the real estate market, Liberty Home Buyers ensures a quick and efficient sale. We buy houses fast, empowering homeowners to overcome the challenges of selling an occupied property. By choosing our services, homeowners can alleviate the burdens associated with tenant-occupied properties and confidently move forward with their plans.
If you're a homeowner seeking a reliable and expedient solution to selling your property occupied by tenants, look no further than Liberty Home Buyers. Contact us today to experience firsthand our commitment to professionalism, efficiency, and a stress-free selling process. Let us handle the details, while you enjoy the benefits of a fast and hassle-free property sale.