Title: Tips for Selling Your House During a Divorce in Killeen
According to updated statistics, the divorce rate is now closer to 40 percent versus the 50 percent commonly quoted. While this is good news, divorce can still be challenging and emotional, especially when you're trying to sell a house during the process. In this post, we'll provide you with some strategies and ideas to help you navigate the real estate portion of your divorce as carefully and efficiently as possible.
Determine if (and when) You Will Be Selling Your Home During Your Divorce
In some divorce cases, one spouse will keep the home, buying out the departing spouse's share. In other cases, the house may be sold, but the timing can be more complicated, particularly when children are involved. It's important to discuss these options with your attorney and your spouse before making any decisions.
Get Professional Help – Agents and Home Buyers / Investors
Selling a home can be difficult, even when everything is going right. During a divorce, when emotions are high and there are so many other things to consider, it's even more challenging. That's why it's essential to work with a real estate professional, such as a reputable agent or real estate investment firm. They can help you determine a fair selling price and handle the marketing of your home, taking some of the stress off your plate.
If you need to sell your Killeen house fast, consider working with a reputable local real estate investment firm, like Liberty Home Buyers. We buy houses for cash and can close quickly, often within seven days. This option is particularly helpful if you need to sell quickly and don't want to deal with the stress of listing your house with an agent.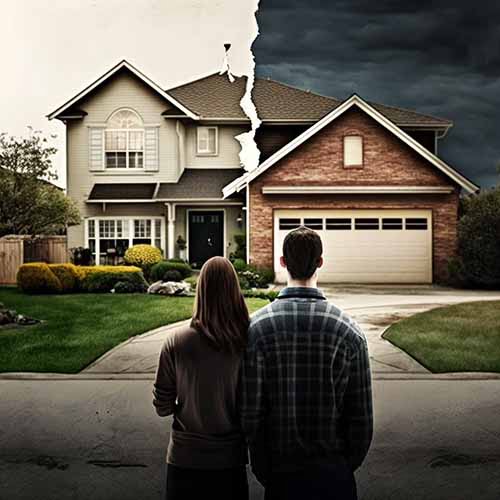 Set (and stick to) a Timeline
It's important to set a timeline when selling your Killeen house during a divorce. This includes putting your home on the market in advance, setting firm closing dates, moving dates and times, and coordinating which spouse will be handling the sale (or talking to the real estate agent). Make sure that each of these agreements are in writing and negotiate penalties for breaching the agreements. This helps ensure a smooth, surprise-free home sale.
Selling Your House Fast For A Fair All-Cash Price
If you and your spouse both agree to sell the house and want to expedite the process, consider working with a real estate investment firm that buys houses quickly for cash. This option can save you time and stress, and you can walk away from the sale without additional burdens.
Deciding how to sell a marital home in Killeen doesn't have to be as stressful as the divorce itself. By protecting each party with a qualified real estate agent or simply jointly deciding to sell and selling fast to a real estate investment firm like Liberty, and moving the process as quickly and according to an agreed upon schedule, all parties can walk away from the sale without stress.
If you're going through a divorce and want to sell your house, reach out to us at Liberty Home Buyers. We specialize in buying divorce houses and can help you expedite the process by buying your house for cash.